There are various ways Lagosians commute; by air, roads, rail and through the numerous rivers and lagoons that criss-cross the city. There is a domestic airport MM2 with many airlines connecting Lagos to other Nigeria cities. For the upper class, you can beat the Lagos traffic by taking to the air with Helicopter services by OAS and Caverton Helicopters.
The small yellow-painted with double black stripes  buses (Danfo) are the most popular and cheapest means of commuting from place to place in Lagos. They make regular stops at all bus stops along their specific routes. Ensure you enter at specific bus stops in order to avoid falling victim of  'one-chance'; where a bus suddenly stops and calls unsuspecting passengers who are then dispossessed of their belongings after moving a few meters. If you are new in Lagos, please be extremely vigilant.
Bus Rapid Transit (BRT) is the new means of transportation in Lagos. It consists of high-capacity buses moving along dedicated lanes making the BRT system a very fast way of going from point to point. The system is well-embraced by Lagosians as it's cheap, very safe and gets you to your destination quickly. For a little extra, you can take the fully-air-conditioned Red BRT buses in relative comfort. The BRT network is continuosly being expanded to cover other areas of the Lagos metropolis.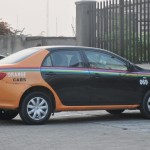 Orange Cabs are new brands of cabs recently introduced in Lagos. They operate brand new and well-maintained cars. Orange cabs use metering system to charge. This can be to you favour or otherwise depending on what direction you are facing; it can be very expensive if you are going to traffic-prone areas. The cars are very comfortable with Air conditioner. To call an Orange cab, call 01-2802274
Keke Marwa is a three-passenger tricycle that has become popular as a means of transportation within Lagos starting from the late nineties. Keke means bicycle in Yoruba language while Marwa is the name of the then Governor of Lagos State (Brig. Gen. Buba Marwa) who introduced the tricycles to Lagos. Keke Marwa operate within back-streets and carry only three passengers on very short trips. The drivers of these tricycles can be overzealous and display high level of exuberance. Look our for elderly drivers, they are usually more careful.
Nigerian Railway Service (NRC) operates an hourly bi-directional train service from Ijoko in Ogun state to Iddo terminus. The rail system has recently been upgraded to make them more efficient and new coaches added but they are largely over-crowded. Lagos State is currently constructing a light rail system. The Blue Line which will run from Okokomaiko to Marina  is expected to be completed in 2011 while the Red Line will make use of the current NRC corridor and run from Ijoko to Iddo.
Okada is one of the most widely used means of transportation in Lagos today. These are motorbikes that carry single passengers from point to point (Don't be surprised to see 4 people sitting on one!). Okadas have become extremely popular as a result of the terrible Lagos traffic. This is a sure way of wading through thick traffic to arrive early for your appointment. Several attempts to ban them have not been successful and it's gradually being co-opted into the city's transportation system. Strict rules have been set out for the operators; passengers and riders must wear crash helmets, only one passenger allowed, no pregnant women or children allowed. Caution: Okadas are extremely dangerous, please wear crash helmets and don't stop screaming at the rider if he's going too fast!
Related Listing
There are various local and international Car Hire Services companies operating in Lagos. It's ...

MMA2 was commissioned in 2008 and it's a product of a Build-Operate-Transfer agreement between the ...